DataDisk Diepenbrockstraat 4 5283 LE Boxtel
SharkoonShark Zone K30 Illuminated Gaming Keyboard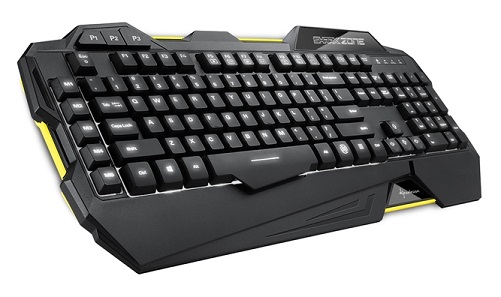 SHARK ZONE: The new series from Sharkoon – specifically designed for gamers!

Familiar high Sharkoon quality with well-known attractive price-performance ratio. The black and yellow SHARK ZONE design enhances your gaming skills and sends a visual warning to your gaming rivals. Use at your own risk!


Modern keyboard with LED illumination

The SHARK ZONE K30 Illuminated Gaming Keyboard offers all gamers a modern input device with advantageous features. The keyboard impresses with its striking SHARK ZONE design and significantly upgrades the look of any gaming system. The white LED illumination is of course customizable and can be easily adjusted on the keyboard without installed gaming software. To run macros more comfortably and/or start profiles, the K30 provides five practical macros as well as three profile keys.


Gaming software included

The K30 is programmed by means of the enclosed gaming software. Especially practical is that five game profiles can be activated, which are executed automatically as soon as the desired game starts. In addition are programmable mouse actions and individually configurable key functions, which can be easily adjusted in the gaming software. Thanks to the onboard memory all customizations are saved in the keyboard, thus no settings will ever be lost.


Comfortable operation

Multimedia applications can be comfortably used through the function keys with preset multimedia actions. Gamer types are offered an optimized multi-key rollover support as well as a maximum polling rate of 1,000 Hertz. The K30 comes in a 3-block layout and features an integrated palm rest. Connection occurs via a gold-plated USB plug in SHARK ZONE optics.

:: Alle prijzen zijn in euro's en inclusief BTW
:: Prijswijzigingen voorbehouden
:: Afbeeldingen zijn uitsluitend ter illustratie en kunnen afwijken in kleur en vorm

DataDisk Diepenbrockstraat 4 5283 LE Boxtel